Introduction
When COVID-19 was first discovered in December 2019, few could have predicted just how big of an impact on our society it would have. Now, one year later, the coronavirus pandemic still holds the world in an iron grip. Countries around the world seem to be stuck in a perennial loop, forced to choose between implementing lockdowns to stop the spread of the virus and save human lives and loosening restrictions to keep the economy running. Many have described it as a lose-lose scenario. While the closures of non-essential business have been instrumental in reducing the number of infections, they have also had a devastating impact on various sectors, the consequences of which may ultimately turn out to be worse than the virus itself. However, not every sector has been equally affected. Some have even managed to thrive in the new normal, while others are just trying to keep their heads above the water. So, where exactly does logistics fall in?
The impact of COVID-19 on logistics
According to a recent survey of 60 senior supply-chain executives conducted by the management consulting firm McKinsey & Company, the COVID-19 pandemic has brought to light numerous shortcomings in our existing supply chains. Overall, 75 per cent of respondents experienced production and distribution issues, while 73 per cent faced problems on the supplier side. These challenges were particularly pronounced in the food and consumer-goods industries, where production and distribution problems affected every single executive who took part in the survey, while 91 per cent encountered supplier-related problems. Inefficient digital technologies in the supply chain are yet another problem that was frequently brought up in the survey, highlighted by 85 per cent of respondents. Furthermore, 48 per cent of executives said that the transition to remote working resulted in significant delays in planning decisions.
Rather than just sitting back and waiting for the crisis to pass, the majority of supply-chain leaders are already taking concrete steps to address some of the challenges brought about by the pandemic. For 93 per cent of respondents, that means focusing on increasing resilience of their supply chain through mechanisms such as "dual sourcing of raw materials, increasing their inventories of critical products and, to a lesser extent, by near-shoring, or regionalising their supply chains." Accelerated adoption of innovative digital tools will also require a more tech-savvy workforce, which is why 90 per cent of respondents are looking to widen their organisation's digital supply-chain talent pool, either by reskilling their existing workers or by bringing in new talent from outside. About 54 per cent of executives believe that some of the new trends in supply-chain planning will remain a regular feature within the sector even when things do go back to normal eventually. These include "greater centralisation of planning activities, shorter planning cycles, and introducing advanced-analytics techniques." However, not everyone will be able to implement these changes, with 11 per cent of respondents citing budget constraints as a potential barrier.
Shortening of the supply chain
Over the years, our supply chains have become increasingly globalised. Unfortunately, this stretching of global supply chains also had an unintended consequence in that it made them more susceptible to disruption, a fatal flaw that was fully laid bare by the emergence of COVID-19. Supply chains were stretched to a breaking point and many companies were left without suppliers practically overnight, forcing them to look for alternatives closer to home. To avoid similar disruptions in the future, companies will have to shorten their supply chains and find a way to accelerate delivery from one end point to the next. Changes are in store for component suppliers and product integrators as well, who will be forced to establish sourcing and delivery options of their own, which should help make the supply chain more flexible. We can also expect regional logistics hubs to regain prominence in the near future. In fact, this is already taking place in certain areas. The European pharmaceutical industry, for instance, sourced 80 per cent of its components from China and India before the pandemic, something that is likely to change from now on.
The Accelerating Trends: Assessing the Supply Chain in a Post-Pandemic World report published by the law firm Foley & Lardner reveals that 47 per cent of respondents are thinking about adopting innovative tools or applications that enhance visibility and tracking of the supply chain, while 39 per cent say the same about operational analytics that can help improve business metrics tracking. "As companies adopt more technology and automation into their production processes, realizing the benefits of these initiatives will require that efforts be structured for success from the outset," says James Kalyvas, Foley's Chief Innovation Partner and chair of the firm's Technology Transactions & Outsourcing Practice. "That means identifying clear business objectives, tying payment to outcomes that achieve those objectives, and ensuring effective internal management of the implementation."
Changes in logistics brought about by COVID-19
Inland and marine logistics turn to smart technology
Increased visibility and predictability can be very beneficial in supply chain operations, something that was made quite clear by the COVID-19 pandemic. The same is true for technology that can collect and analyse data, which has proven extremely useful in helping companies make better-informed decisions. The Automation 2020: Perceptions, challenges and opportunities for Container Terminal Automation customer survey published by Navis reveals that 94 per cent of respondents see artificial intelligence and machine learning technologies as key to increased optimisation at automated terminals. According to the survey, innovative technology can "help terminals maximize operational results across the inland and ocean shipping industries and uncover new insights for strategic business outcomes."
Increased blockchain adoption
While there are still some doubts surrounding blockchain, the technology has already demonstrated its usefulness in several industries, including supply chain. It's estimated that blockchain technology could bring the food and beverage industry alone savings worth up to $31 billion by 2024, so it's no surprise that the adoption of blockchain is expected to increase across the supply chain in the near future. Blockchain technology can help create a more transparent and secure supply chain by allowing companies to share data with all stakeholders. The use of cryptocurrencies is also expected to increase. Compared to legacy financial systems, cryptocurrencies offer "a higher level of transparency, speed of transfer, and security," which is why they could become a primary mode of payment in areas like cross-border trade. The supply chain industry could also see a wider proliferation of smart contracts, "transaction protocols that are meant to execute when certain conditions are met automatically." For example, when a shipment reaches its destination, a smart contract can automatically generate an invoice, which not only speeds up the process, but also eliminates the need for arbitration.
Supply chain in the post-COVID world
The pandemic has made it painfully obvious just how risky it is to rely on a single country or geography for the majority of your production needs, so we can expect supply chains to become more diversified in terms of geography going forward. As a result, low-cost manufacturing environments like Vietnam, Thailand, and Malaysia could become important players in the global market and may even be able to threaten China's role one day. There will also be a renewed focus on local manufacturing, which will in turn lead to increased adoption of automation, robotics, and 3D printing. Switching to these micro supply chains will give companies more flexibility and enable them to respond to sudden changes in consumer demands more quickly. The use of technologies like AI, machine learning, predictive analytics, IoT, and blockchain will also increase within the sector, making supply chains smarter, more efficient, and more transparent.
Predictions for the future of logistics
The digital transformation of the supply chain
The COVID-19 pandemic will most likely accelerate the long-awaited digital transformation of the supply chain, according to Vanessa Miller, co-chair of Foley's Coronavirus Task Force and co-chair of the Supply Chain Team. "There are lessons to be learned from this pandemic," says Miller. "Among them is that cost may not be the only consideration, that companies can stabilize their supply chains by bringing on alternative suppliers or moving certain functions in-house, and that technology can help stem future disruption. But the principal lesson – wake-up call, really – might simply be that such disruptions are an unshakeable reality, and that executives must have a proactive strategy if they hope to head them off." To avoid succumbing to similar disruptions in the future, companies could, for instance, choose to stock additional inventory of essential materials and component parts or ask suppliers to do the same.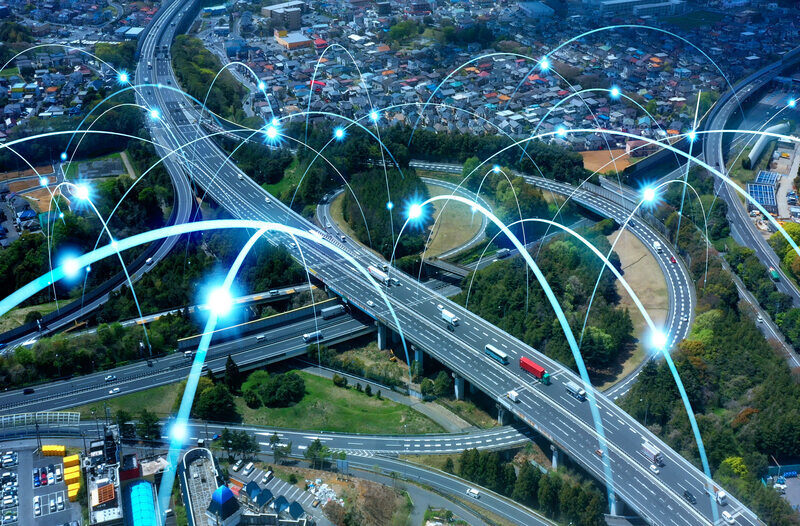 Kevin Williamson, the CEO of RJW Logistics Group believes that the most significant way in which COVID-19 has changed the supply chain is that it's brought the need for data sharing into the spotlight. "3PLs and supply chain providers that were successful from the start made operational shifts immediately—one of those was sharing information and data with customers so that they can keep up with increased demand through more accurate forecasting," says Williamson.
Excessive reliance on paper-based processes and the lack of real-time information were some of the biggest supply chain vulnerabilities uncovered by the COVID-19 crisis, says Juliann Larimer, the President and CEO of Peak-Ryzex, adding that "the need for further digitization of the supply chain became very apparent as a way to build more collaborative platforms with trading partners, suppliers, and customers."
In the future, companies will increasingly turn to technologies that facilitate contactless shipping operations, predicts Ed Stockman, the founder and CEO of Newtrul, a next-generation truckload collaboration platform. "Like every other industry, COVID has certainly accelerated trends in logistics. It's very clear who has made investments in their customers, carriers and systems over the last 2 years, and that will become more obvious over the next two years," says Stockman.
The need for real-time data aggregation
Companies that recognised the benefits of automation and remote access early on received validation that they made the right choice once the pandemic arrived. "These nimbler companies' workforces have been able to manage systems from browsers on home computers, tablets, even smartphones—enabling their business to run uninterrupted," explains Mahesh Rajasekharan, the President and CEO of Cleo. "Companies that haven't automated have been forced to shut down until they can upgrade their operations or physically return to the jobsite." Predicting demand accurately was challenging enough even without the virus circulating out there, but the ensuing panic buying had complicated the matter even further, highlighting the need for real-time data aggregation. "In a pre-COVID-19 world, suppliers could create larger data sets that produce more long-term predictability," says Rajasekharan. "Now, manufacturers and suppliers need to rely on smaller data sets generated in near real-time in order to understand and communicate supply and demand. This method calls for greater agility across your supply chain integration points in order to respond to real-time changes."
Conclusion
Just like every other industry out there, logistics has been hit hard by the COVID-19 pandemic, which exposed numerous shortcomings of our existing supply chains, such as excessive reliance on a single source for essential materials and a lack of digitalisation. With China singled out as the source of the virus, companies found themselves cut off from their suppliers and experienced severe production and distribution issues. This not only forced them to look for alternative suppliers closer to home but also accelerated adoption of innovative technologies that could increase the transparency, resilience, and flexibility of the supply chain. That way, even if they encounter similar disruptions in the future, their supply chains should be able to handle them more easily.