Introduction
When COVID-19 was first discovered in December 2019, few could have predicted just how big of an impact on our society it would have. Now, one year later, the coronavirus pandemic still holds the world in an iron grip. Countries around the world seem to be stuck in a perennial loop, forced to choose between implementing lockdowns to stop the spread of the virus and save human lives and loosening restrictions to keep the economy running. Many have described it as a lose-lose scenario. While the closures of non-essential business have been instrumental in reducing the number of infections, they have also had a devastating impact on various sectors, the consequences of which may ultimately turn out to be worse than the virus itself. However, not every sector has been equally affected. Some have even managed to thrive in the new normal, while others are just trying to keep their heads above the water. So, where exactly does the industrial sector fall in?
The impact of COVID-19 on Industry 4.0
The growing need to improve the connectivity, visibility, and resiliency of the supply chain has resulted in an increased adoption of Industry 4.0 technologies even before the pandemic, but the ongoing health crisis has kicked this trend into high gear. According to a recent MPI 2020 Industry 4.0 study, 83 per cent of manufacturing leaders consider Industry 4.0 to be 'extremely or very important' to their companies, while 56 per cent believe that it will have 'a significant impact' over the next five years. Furthermore, McKinsey reveals that 39 per cent of industry leaders have introduced a digital command centre in an attempt to improve end-to-end supply chain transparency, while COVID-related worker shortages have forced another 25 per cent to accelerate the rollout of automation programs.
Approximately 70 per cent of European business managers who took part in a recent survey believe that the coronavirus pandemic will "further accelerate the pace of digital transformation." This will be reflected in the growing reliance on remote work, improved technological infrastructure, and increased number of remote communication channels. Some of these changes could very well become permanent once the pandemic subsides, with digital channels becoming the primary means of interaction between all stakeholders in the supply chain.
Efficiency and risk mitigation are likely to become two key factors that govern supply chain relationships in the upcoming period. According to a recent survey conducted by the Institute for Supply Management, nearly 75 per cent of companies have experienced disruptions in their supply chain due to the COVID-19 pandemic, resulting in longer lead times, freight capacity shortages, and delays. In fact, there were more than 51,000 companies who had at least one key supplier located in some of the most heavily affected regions of China, a report from Dun and Bradstreet reveals. Of course, companies can always try to find alternative suppliers but that's not as simple as it sounds and can take months or even years to accomplish.
To address the challenges brought about by the COVID-19 pandemic and increase their agility and flexibility, a number of businesses have implemented the Industrial Internet of Things (IIoT) technology, with great success. According to a recent whitepaper published by the World Economic Forum and McKinsey, manufacturers who took this route were able to increase their output by up to 200 per cent, decrease time to market by up to 90 per cent, and reduce production costs by up to 40 per cent. As the manufacturing industry starts to come to grips with the pandemic's effects, this technology is set to play an important role in returning our supply chain operations to pre-pandemic levels.
How companies in the sector are responding to the crisis
The coronavirus pandemic has significantly increased demand for digital transformation within the manufacturing industry. "In Industry 4.0, data-driven strategies have become a crucial element," says Ken Law, Co-Founder and CEO of PowerArena. The Hong Kong-based startup recently launched a new product called Build Your Own AI (BYOAI), which allows companies to create an AI model that is specific to their production line in just a few simple steps. Best of all, the solution doesn't require any data science expertise from the operator and features "a simple and easy-to-use dashboard," according to Harold Cheng, Business Development Manager at PowerArena. "Factory managers will not need to type a single code; they just need to input reverent information of their workstations to operate."
One of the first companies that got to try out the solution was Taiwan-based computer manufacturing company ADLINK Technology, using its AI capabilities to analyse its workstations, identify potential bottlenecks, and improve efficiency. "Digitalisation with lean production can prompt real-time visual management, efficiently eliminate wastes, and a simple and smooth production," explains Ben Cheng, the company's Business Development Director. "Whether or not it can be carried out, is a critical factor in achieving lean manufacturing."
In July 2020, Tencent Cloud joined forces with Foxconn Industrial Internet (FII), one of the world's largest manufacturers, to develop the Foxconn Industrial Cloud Platform (FII Cloud), which combines operations technology and information technology to seamlessly connect Foxconn's various manufacturing plants in the cloud environment. As one of the biggest proponents of smart manufacturing, FII already employs sensor technology, automated industrial control systems, and smart logistics across its manufacturing facilities, some of which are run entirely by robots. These so-called 'lights-off' factories enable FII to significantly reduce its costs and energy consumption, increase data and production safety, and improve manufacturing quality. Through this new partnership, the two companies plan to "promote the industrial application of cloud computing, artificial intelligence, big data, and other technologies to provide digital transformation services for industrial enterprises."
Predictions for the future of Industry 4.0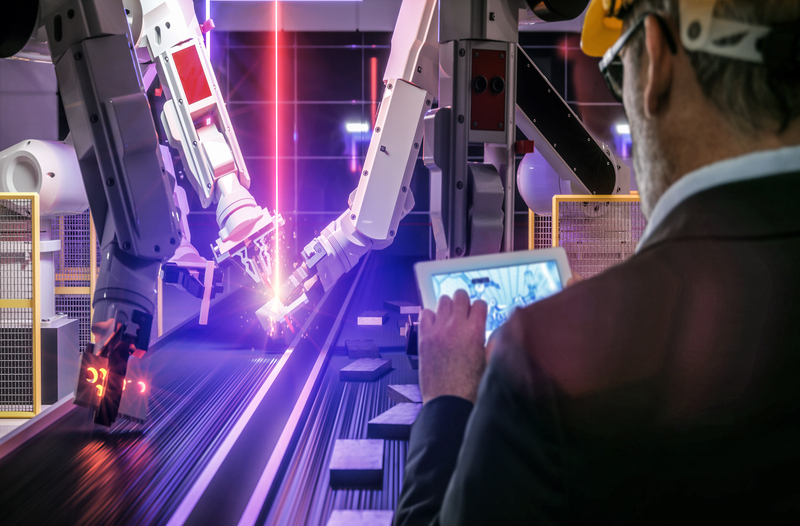 Advanced manufacturing technologies are ready for primetime
The COVID-19 pandemic has had a significant impact on manufacturing operations across the globe, according to Paul Baldassari, executive vice president of strategic programs and asset management with Flex. "The pandemic tested the maturity of the Industry 4.0 movement. When COVID-19 spread throughout the world, the ability to have real-time information at your fingertips for everything, from suppliers to the factory floor, empowered teams to operate at the same speed, if not faster," he says. "In the factory, automation and robotics were instrumental in spreading the shop floor and keeping employees properly distanced. Augmented reality played a critical role in setting lines up quickly. And simulation was essential for virtually showcasing and making changes to factories, lines, and ramps. The industry proved that a lot of these advanced manufacturing technologies are ready for primetime."
The increased adoption of Industry 4.0 elements provided manufacturers with a wide variety of benefits. "It comes down to making better decisions based on current information. Whether you're talking simulation, automation, machine to machine (M2M) communication, or virtual reality, businesses are finding that it's easier to collect vast amounts of data that weren't accessible before," adds Baldassari. "Digitising processes and coupling them with advanced analytics empowers employees to gain deeper insights, run tests, add innovation, and make real-time decisions that keep manufacturing operations running smoothly."
Digital transformation of the manufacturing industry
Prabhakar Shetty, Global Head of Manufacturing Services at L&T Technology Services believes that digitalisation will play a major role in transforming the manufacturing industry. "In the current environment, we have highly complex and intelligent products and systems that can talk to each other while generating huge amounts of data. I believe a massive technological shift is underway. But the question revolves around how to harness the data coming out of the shop floor, products and various collaborative functions," says Shetty. "In the last five years, technology has enabled transformation around us. It has become cheaper and customers have become more agile to adopt & leverage the latest tech. Products have become complex because you have different elements in today's intelligent products. With a complex ecosystem, it's important you have versatile skillsets across the board."
Aidir Parizzi, Director of Global Supply Chain for IMI Critical Engineering, shares a similar opinion about the importance of digitalisation. "The fundamental reason to digitise is speed. It's no longer only about making the right decisions, but about making them in the shortest possible time. We need to understand the impact, real or potential, of commercial risks and opportunities, faster than our competition and before it cascades to our customers," says Parizzi. "Beyond supply chain, the digital transformation effort had to be accelerated to cover all aspects of the operation, including relationships with customers and suppliers, remote customer assistance, inspections, and last but not least, how our products must adapt in a digital world… I don't think there's a single formula that serves all companies, and the concept of digitalisation itself keeps evolving rapidly. Each company will have to find its own solution."
Conclusion
The coronavirus pandemic has had a major impact on the manufacturing industry, resulting in severe supply chain disruptions, worker shortages, and lengthy delays. To address the challenges brought about by COVID-19 and increase their agility and flexibility, manufacturers around the world were forced to accelerate the adoption of Industry 4.0 solutions. The resulting digital transformation, spearheaded by technologies like artificial intelligence, automation, robotics, and augmented reality, will ultimately lead to a safer, more efficient, and resilient industrial sector.