Introduction
When COVID-19 was first discovered in December 2019, few could have predicted just how big of an impact on our society it would have. Now, one year later, the coronavirus pandemic still holds the world in an iron grip. Countries around the world seem to be stuck in a perennial loop, forced to choose between implementing lockdowns to stop the spread of the virus and save human lives and loosening restrictions to keep the economy running. Many have described it as a lose-lose scenario. While the closures of non-essential business have been instrumental in reducing the number of infections, they have also had a devastating impact on various sectors, the consequences of which may ultimately turn out to be worse than the virus itself. However, not every sector has been equally affected. Some have even managed to thrive in the new normal, while others are just trying to keep their heads above the water. So, where exactly does construction fall in?
The impact of COVID-19 on construction
A recent report published by Euroconstruct, the leading construction market forecasting network in Europe, estimates that Europe's construction market will experience a 7.8 per cent drop in 2020. In 2021, the industry will grow by 4.1 per cent, followed by a growth of 3.4 per cent in 2022 and 2.4 per cent in 2023, when construction is finally expected to fully recover from the pandemic. According to the report, total construction output will reach €1.73 trillion in 2023, which will represent a €28-billion increase compared to 2019.
However, the pandemic will not have a similar impact on every country in Europe. The UK, for instance, is predicted to experience a marked decline of nearly 20 per cent, while Finland will grow slightly. Some countries, like Portugal and Norway, won't see that much of a change. The crisis won't have a significant impact on the civil engineering sector either. According to Euroconstruct, infrastructure spending will decline by just 3.8 per cent in 2020, before growing back by 5.2 per cent in 2021. Non-residential construction, on the other hand, will decline by 9.2 per cent, followed by a 2.5 per cent growth in 2021. However, the sector is unlikely to go back to pre-pandemic activity levels by 2023. Following an 8.6 per cent decline in 2020, residential construction will pick up pace in 2021 with a 4.7 per cent growth.
Long-term challenges in the construction industry
The COVID-19 pandemic has brought numerous challenges for the construction industry, many of which will continue to affect construction companies for the foreseeable future. While the sector was dealing with a growing labour shortage even before the virus, the pandemic has made this issue even worse. It has also led to a major decline in construction costs and a reduced backlog of work for construction companies, which could have a negative impact on their profits. The prices of construction materials, on the other hand, have increased, complicating the matter even further. This, combined with supply chain issues, is forcing companies to look for alternative suppliers for the materials they need or to build up their inventories. Increased focus on worker health has also forced construction companies to implement new safety protocols, which could end up having a negative impact on productivity. The growing prevalence of remote work and certain lifestyle changes could also result in a reduced demand for office buildings, nursing homes, healthcare facilities, and sports and performance venues, which means there could be less work for construction companies in the future. The demand for affordable housing, on the contrary, will continue to grow, forcing governments to launch new packets of measures that will facilitate the construction of new homes.
Using AI to determine the pandemic's impact on construction
By now, pretty much everyone agrees that the COVID-19 pandemic will have a severe impact on the construction industry. However, there is very little consensus regarding the exact scale of that impact. How do you really measure something like that? Perhaps artificial intelligence could give us a better answer. The Atlanta-based tech company OxBlue recently revealed plans to use AI to measure the pandemic's impact on the US construction sector. Using anonymised, near real-time field data taken from thousands of construction projects across the United States, the AI will create weekly reports that demonstrate the activity level in the construction industry. "As the coronavirus pandemic continues to spread across the United States, the construction industry faces incredible challenges and difficult decisions," says Chandler McCormack, the CEO of OxBlue. "Because we're business owners in the trade ourselves, we understand that it's critical for companies to be able to separate the noise from the facts and make data-driven decisions."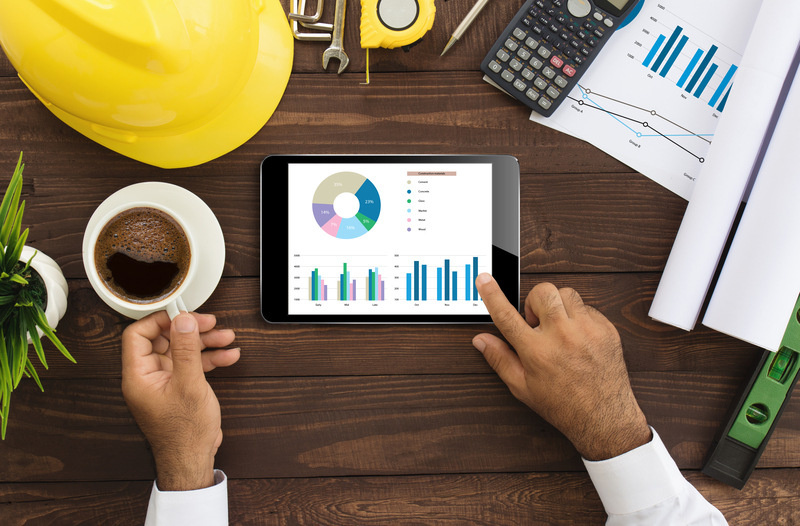 How Reconstruct, Inc. helps the construction industry address COVID-related challenges
Even after lockdowns have ended, things in construction couldn't just go back to the way they were before. With social distancing measures now in place, companies were forced to make significant adjustments to the workplace to ensure everyone's safety. However, to do this properly, you first need to have a floor plan of the facility you want to renovate. The US-based company Reconstruct, Inc. has developed a software that allows construction companies to streamline the creation of floor plans.
"Owners, operators, designers, and contractors can grab a 360-degree camera; video record their facilities within a few minutes, and use Reconstruct to automatically generate schematic or color floor plans as well as 3D point clouds," explains Mani Golparvar, the CTO and Co-Founder of Reconstruct, Inc. "Our viewer visualizes the reconstructed scenes from 360-degree videos and offers a helpful 'street-view' navigation experience. Users are leveraging these floor plans and 3D models to conduct street-view walk throughs in their spaces, measure the scene for social-distancing requirements, visualize their new design overlaid on the images and videos, and share "what is there" vs. "what should be there" with their clients."
That's not all, though. The software also allows companies to monitor the progress of their construction projects remotely. "Our technology integrates reality models—created with 360 cameras, drone images, or laser scanning point clouds—with BIM and puts the resulting digital twins in the context of the project schedule, adds Golparvar. Such an environment allows users to "perform quality control inspections, progress monitoring, and identify project risks."
Predictions for the future of construction
Digital tools and processes are the future of the construction industry
Sabrina Odah, construction solutions director at Suffolk, believes that digital tools and processes have been instrumental in keeping construction projects going during the pandemic and that they will have an even more prominent role within the industry in the upcoming period. "I believe that many stigmas in construction have been challenged over the past few months. Throughout the pandemic, one theme has consistently emerged: that talent is not limited to location. My experience working remotely has been centered around effectiveness, using the tools available to find ways to promote deep team connections and advance projects," says Odah. "I believe the future of the construction industry will preserve this flexibility and empower team members to decide whether in-person or remote work is best suited to meet their objectives. This flexible work environment calls for personal accountability to ensure we meet our commitments. And with this flexibility, I hope to see diversity in the candidates that we attract: people of different backgrounds and skillsets to fuel our innovation fire."
Technology can help streamline day-to-day operations
Construction is a highly complex business that requires companies to carefully consider a wide variety of factors before they commit to a new project. Unfortunately, the industry is also plagued by certain inefficiencies that lead to project delays, unnecessary wastage, and overspending. By adopting the right technology, construction companies could streamline their day-to-day operations and significantly increase their speed and accuracy, says Jonny Hayes, a civil engineering technology expert from The Access Group. "In order to win the big infrastructure projects that can take your business to the next level, everyone should be working from the same system and the same datasets. If everyone works from a centralised system, duplication can be eliminated, errors can be reduced, and admin greatly reduced. By using software systems that can automate huge chunks of the data entry process, the risks of human error can be mitigated. Ultimately, when everyone is working from the same system, the work becomes more efficient and more cost effective," he writes in a blog post.
Increased adoption of construction technology
The construction industry has always been known for its reluctance to embrace change. However, the pandemic has forced many construction companies to adopt innovative tech solutions to keep their projects running. This may very well turn out to be a good thing for the industry in the long run, according to Kyle Peacock, the CEO of Peacock Construction. They may have been implemented out of necessity, but the numerous benefits they bring will ensure that these technologies remain in use for years to come. Cloud-based project management software, for instance, will almost certainly be one of those tools, as it allows construction companies to ensure worker safety and track project progress without having to visit the site in person. The same is true for advanced communication tools like Zoom and Microsoft Teams, which allow companies to stay in touch with their employees, clients, suppliers, and dealers. Robotics technology will also become an increasingly common sight at construction sites around the world. "This has been coming for a while and addresses the demand for automation, faster building and the skilled labor shortage while also supporting social distancing," says Peacock. Even once the pandemic is long gone, construction companies will continue to use tools like digital check-in to keep track of who comes and goes. "This is because contractors see the value of knowing who is on site at any given time for safety and security beyond the virus," he adds. Drones and security cameras will also take a more prominent role, allowing companies to monitor site activities around the clock. Finally, virtual, augmented, and mixed reality technologies will have a major impact on training, as well as equipment maintenance, according to Peacock.
Conclusion
The construction industry has been severely affected by the COVID-19 pandemic. However, things are already starting to look up and the sector is expected to fully recover by 2023. Things will never go back to the way they were, though, with some of the challenges brought about by the pandemic expected to remain for the foreseeable future. This could be a good thing for the industry, as it will force companies to implement new technologies in order to overcome those challenges, resulting in a more efficient, productive, and resilient industry going forward.